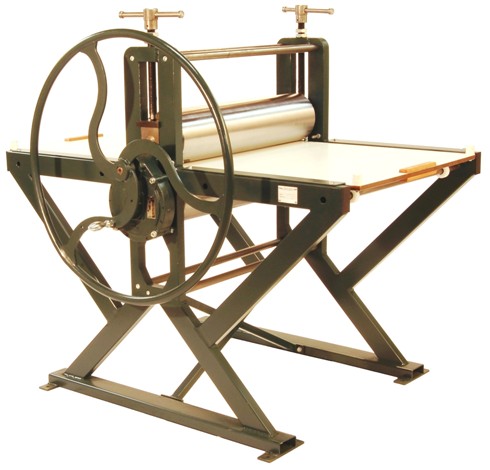 Technical data etching press JW-80
Plate size (bed size)

80 x 160cm

31.5x63"

Diameter upper roller

19 cm

7.5"

Bed thickness

1,5 cm

0.6"

Wallthickness rollers

2.2 cm

0.9"

Measurements of the press:

Diameter lower roller

19 cm

7.5"

- Length (of the side frames)

152 cm

60"

Work height

88 cm

35"

- Width (incl. hand wheel)

110 cm

43"

Thinckness of steel side frames

4 cm

1.6"

- Height

160 cm

63"

Max. opening between bed and top roller

10 cm

4"

Roller length

80 cm

31.5"

Screw thread of pressure screws (metric)

M 30

Press weight

450 kg

990 lbs

Hand wheel diameter

92 cm

36"

Ratio gearbox

1:10

Minimum width required for moving press, without gearbox and handwheel

104 cm

41"
The press comes with several options; casters, a wooden shelf under the press. It is also possible to supply the press with a hydraulic pressure system, which guarantees always an even pressure on both sides of the press. You can read the pressure on a gauge.
The presses in the JW-series are designed for heavy duty use in, for example, printmaking studios. Construction is similar to the JPV-series, the differences having to do with heavier production needs. A heavy wheel drives the lower roller through a sealed gear box at a ratio of 1:10. Like all of our intaglio presses the upper roller is spring mounted making it suitable for relief printing. Shims of leather or cardboard can be placed under the spindles, thus providing more flexibility during printing. The hard synthetic bed plate runs, without play, between adjustable right angled guide strips which are mounted to the side frames.
Apart from the bedsize, the only difference between the JW-80 and the two bigger JW presses is the frame length.
As far as delivery is concerned, we prefer to ship this press assembled, even if this means disassembling it at site to facilitate delivery.
Option 1. JW-80 with casters. Unfortunately not yet a picture available with casters

Option 2. JW-80 with a wooden shelf. The image here above shows a JW-100 with a wooden shelf.
Click here for a larger image

Option 3. The JW-80 press can be fitted with a hydraulic pressure system. (Image shows the JZM-150 which has standard a hydraulic pressure system).
A hand pump is used to set pressure. Beneath the pressure screws hydraulic cylinders are located, these push the upper roller downwards. A gauge shows the pressure. This system not only guarantees the same pressure on both sides, but it also gives the possibility to use exactly the same pressure in a following print run.

Normally etching presses are fitted with wooden stops. This prevents the bed from falling out of the press. However, these wooden stops don't offer enough safety according to present day safety standards. That is the reason that these presses are fitted with extra stops (check the arrows), which makes it impossible that the bed will fall out of the press. These safety measures are required in a school environment.